Hello Warriors,
There will be 2 set of missions for those interested in getting the
T-22 sr
, although I completely lost interest in the Domination as the amount of rewards were just too small to make it worthy of someone's time I'm actually going to be doing these as the reward tank is pretty damn good.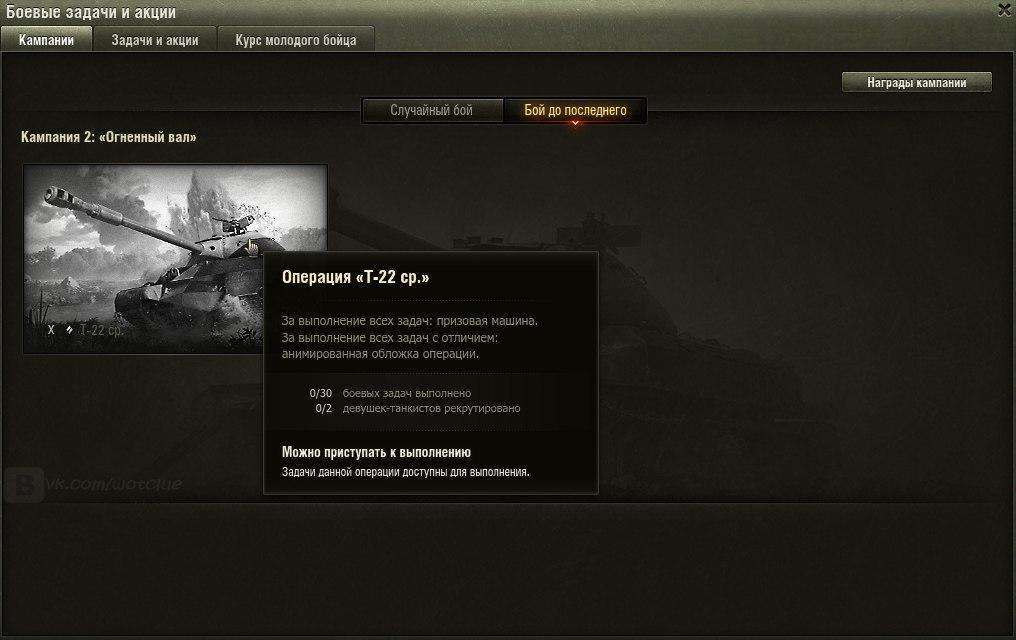 First Set - Steel Hunt Mode
Note: On each mission, there are 2 paragraphs, first for main and second for well, secondary objective.
1st Mission
- Deliver or capture at lest 2 flags
- Make at least 7000 damage
2nd Mission
- Get 250 points (when in platoon) or at least 150 Points (without platoon)
- Deal at least 1000 damage by combat reserves
3rd Mission
- Destroy at least 2 enemies carrying the flag by shooting or ramming
- Get at least 1500 Experience (including premium account)
4th Mission
- Destroy one in the first 2 minutes of battle
- Don't get killed more than three times
5th Mission
- Be on top of damage dealt amongst all players
- Destroy at least 4 enemies.
6th Mission
- Deal at least 1500 damage
- Destroy at least 4 enemies by ramming or shooting
7th Mission
- Deal at least 9000 damage or destroy or return to base at least 2 flags
- Destroy at least 5 enemies by shooting or ramming
8th Mission
- Destroy at least 2 enemies by using combat reserves
- Get at least 1700 Experience (including premium account)
9th Mission
- Damage or destroy or wound at least 8 modules or crewmembers, damage made by combat reserves does not count
- Make at least 8000 Damage
10th Mission
- Destroy at least 5 enemies, or at least three vehicles of different classes
- Deal at least 1500 damage by using combat reserves
11th Mission
- Destroy at least two times more vehicles than the number of your vehicles lost in battle or destroy at least 3 enemies
- Get at least 1800 Experience (including premium account)
12th Mission
- Destroy at least 6 enemies
- Do not lose more than 2 vehicles in battle
13th Mission
- Make at least 9000 damage at a distance less than 100 meters or by ramming
- Destroy at least 5 enemies
14th Mission
- Receive at least 2500 XP (including premium account) while not losing more than 2 vehicles
- Deal at least 8000 damage
15th Mission
- Be first in XP, victory points and damage
- Destroy at least 7 enemy vehicles
Second Set - Domination Mode
1st Mission
- Get at least 250 points or deal at least 3000 damage
- Win the battle
2nd Mission
- Destroy an enemy in the first 2 minutes of battle or kill an enemy without being spotted
- Get at least 200 victory points

3rd Mission
- Deal at least 750 damage by combat reserves or Penetrate an enemy 3 consecutive times
- Destroy at least 2 enemy vehicles

4th Mission
- Destroy one TD and one HT in one battle
- Deliver at least one flag

5th Mission
- Destroy at least two tracks of different enemies or destroy an enemy without receiving any damage up until that point
- Win the battle

6th Mission
- Be on top of both teams in damage dealt or Dont be destroyed more than 2 times
- Deliver at least one flag

7th Mission
- The sum of the damage you dealt and the damage blocked by your armor must be at least 10000, deal at least 5 shots dealing damage (all the results are summed up)
- Deal at least 3000 damage

8th Mission
- Destroy at least one enemy using combat reserves or Get at least 300 victory points
- Deliver at least one flag

9th Mission
- Block at least 5000 damage or Deal at least 5000 damage
- dont be destroyed more than 2 times

10th Mission
- Deal at least 1500 Damage from a distance of at least 300 meters or Deal at least 1500 damage from less than 100 meters
- Deal at least 500 damage by using combat reserves

11th Mission
- Destroy at least 1 enemy using combat reserves or Destroy at least 5 enemies or at least 3 types
- Win the Battle

12th Mission
- Be on top of both teams in victory points or destroy at least 6 enemies
- Deliver at least one flag

13th Mission
- Destroy at least 3 HT and 3 MTs
- Do not be destroyed

14th Mission
- Destroy at least 10 modules or crew or Deal at least 6000 damage to enemies within your viewrange
- Deliver at least 2 flags

15th Mission
- Be on top of both teams in experience, Damage and victory points
- Do not be destroyed